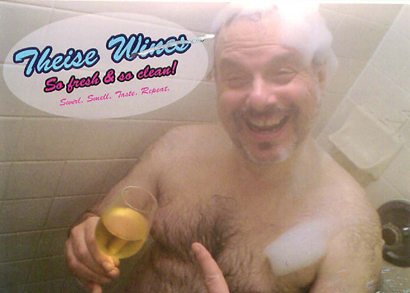 I found this wine doing my nightly reading on Dr. Vino's Blog. If it gets you to pay attention Terry theise then it was worth posting this!

"

Many people in the wine trade are taking bath because of the economic crisis. But not importer Terry Theise: he's taking a shower.
Digging through the piles on my desk I unearthed this card from the illustrious importer of boutique wines from Germany, Austria and Champagne. After winning a James Beard award last year, Theise decides to bare mostly all on his year-end card. His caption is: "Theise Wines: so fresh & clean! Swirl. Smell. Taste. Repeat.""